Whether they are cocky, arrogant or both…these pro athletes are those you just don't want to play with because it would be no fun. All they would do is either get on your last nerve with their antics or their attitude and/or embarrass you with their skills. Remember from Cocky or Confident, cockiness isn't necessarily a bad thing. Everyone has different ways of expressing their confidence.
This is Cover Grounds list of the top 25 Cocky professional athletes:
25. Chad Ochocinco
Have you see Chad Johnson Ochocinco last name? Who changes their name legally to the number you wear? Wonder if he gets traded and has to take number number 1…he going to change it to Uno? He is definitely an entertainer (and so he was on Dancing With The Stars) Seriously, Chad is a pretty good wide receiver though (needs a better team) but maybe not since he is already a Future H.O.F. for 20??
24. Carl Lewis
Carl Lewis thought he was the man of the track before Ben beat him and still thought so after (even if HE himself could have been on steroids and never received a positive drug test…but I'm just saying) On a positive note though (no pun intended), he did hold the record for the most Olympic medals by an American before Michael Phelphs broke it in Beijing.
23. Michael Phelps
You can never forget this winning face from Beijing, but your allowed to do that when you win 8 Gold medals (and smoke pot). Phelps has for sure become an athlete icon from Beijing and one of the top swimmers in the world…and no one can beat him.
22. Deion Sanders
Labeled a "true shutdown corner" Deion was an outstanding cornerback in the NFL. His career really stood-out while winning Two NFL Championships with the Dallas Cowboys and One Championship with the San Francisco 49ers. Deion also acquired the nickname Primetime for his excessive dancing and touchdown celebrations. Hence the 15 yard penalty in the future for excessive celebrations…ya that most likely came from him.
21. Jeremy Roenick
Loves and cares for his fan's, but just not on the ice… "Yeah, I'm cocky and arrogant. But that doesn't mean I'm not a nice person."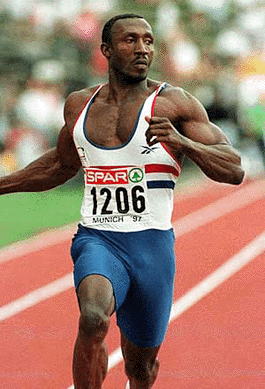 20. Linford Christie
When you hawk a lugy to spit in another guys lane or kick another sprinters starting blocks out of place…you make this list. Enough said.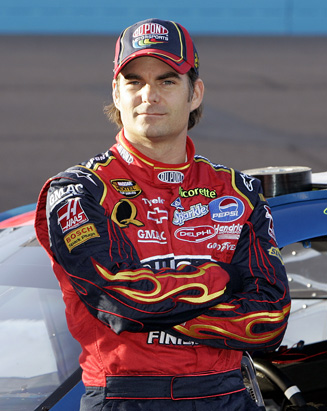 19. Jeff Gordon
95% of NASCAR fans hate him. They don't like him because he is so damn good. A great racer but a horrible person who treats his fans poorly.
18. Charles Barkley
The legendary obnoxious Barkley loved to be the show…and still loves to be obnoxious on TNT.
17. Barry Bonds
Arrogant and Cocky and could smack a ball into the water….then BALCO happened : )
16. Rampage
Mr. T could rip a door apart! If you saw Ultimate Fighter 10 you'll know that he is the worst TRASH talker ever…(then he got it handed to him by Rashad when the fought)
15. Brett Hull
The young and cocky "Golden Brett" came into the league and it just got worse from there, because he thought he was the greatest on the ice…but he was good.
14. Usain Bolt
The fastest man on this planet created his signature move "to the world" during the 2008 Beijing Olympics where he won 3 gold medals and broke 3 world records. If it wasn't the Yams or McNuggets it certainly was his little ego that made him the lighting bolt he is.
13. Lance Armstrong
7 straight Tour de France wins…oh AFTER surviving testicular cancer…He was the greatest and he knew it! but what? Allegations of drug use…?
12. Roger Clemens
The most CY Young Awards with 7. He DEMANDED $22 million for a year to pitch with the Astros and that made him the highest yearly salary earned by a pitcher in MLB history.
11. Cristiano Ronaldo
The Man-U soccer player considers himself the best soccer player on the planet. He's soft, arrogant, and a ball hog, but can score an awesome goal. (It was just his cockiness after the goal.)
10. Patrick Roy
Have you ever heard of a goalie fighting another golie? Ya… Roy started that trend. The French-Canadian didn't care what anybody thought of him because he had his ears plugged with his two championship rings.
9. Kobe Bryant
The Black Mamba makes the list with 4 Championship Rings, 2 MVPs (finals & NBA), a rape case and the fact that he sometimes forgets that he has 4 other teammates….but damn he is good!
8. Muhammed Ali
Float he did…and sting he for sure did! Greatest boxer ever? When you knock a guy out in the first round in the first minute…I think so.
7. Mo Greene
The classic sprint at Mt. Sac in a time of 9.86 and crossing the line with his feet on fire. He had to throw his shoes off and quickly get them extinguished. His "track swagger" was like no other, but a really nice approachable guy, just not on the track : )
6. Mark McGwire
"Big Mac" broke the rookie single season home run record his year at 43. He then broke the single season home run record at 70. He was definitely on top of the world and showed it…AND then admitted to using performance enhancing drugs throughout his career.
5. Serena Williams
There aren't too many cocky female athletes, but she is definetly a prominent one to make the list. #1 in the world, both ranking & on the money list, and a great powerful tennis player. Oh…We can't forget when she freaked out on the side judge at the 2009 US Open.
4. Anderson Silva
After seeing Silva taunt his opponent and then try to help him up, right after punching him in his face…you make the list. He loves to taunt his opponents, but see that belt across his chest…ya he can do that. Dana White almost fired him though from the UFC, and didn't care if he is the greatest fighter.
3. Floyd Mayweather Jr.
I saw all of HBO's episodes of 24/7 of Mayweather (before fighting Mosley) and I could not believe how CONFIDENT he was. He came off so confident it came off arrogant and cocky, I could see how people hate this boxer. But is he's the best pound-for-pound boxer? and undefeated at that, so we'll see what happens if he loses.
2. Michael Jordan
23 shoes later and the Air Jordan brand (in my opinion) made Nike. Considered the greatest basketball player ever (?). 6 championship rings and the signature tongue during his air time.
1. Tiger Woods (ye old tiger)
Before… ya know…car into the tree…20 women later…Tiger had every right to be cocky. Being the first athlete to make $1 Billion will do that to you. (and 20 women later further pushed his point that he was the man). Besides the troubles, Tiger was (and still is) the greatest golfer in the world, but now he has a long road of proving he's still #1. (All with no fist pumps, or clubs thrown)
Honorable Mentions?
UPDATE: John McEnroe, Lebron James,  Mike Tyson, Terrell Owens
There are many honorable mentions, but I'd be here all day. Write your athletes below, let me know who I'm missing, who should be taken off this list, also if there are any other women who could make this list because women could be cocky too : )
I want to know what you guys think!